Triathlon Training camp Abroad
Team Coach Paul Ransome wasn't short of volunteers to test out his new triathlon training camp in southern Spain. A March mini break consisting of swimming, cycling, running, and, let's be honest, lots of tapas and sangria....in the SUNSHINE?! I for one couldn't sign up fast enough!
With direct flights from Bristol to Alicante we were on Spanish soil before we knew it. One quick welcome beer later and the team were all tucked up in our self-catering apartments (complete with fridges stocked full of breakfast goodies), with alarms set bright and early for the first open water swim of 2017. And what a way to start the trip. As we squeezed ourselves into our wetsuits and donned a multicoloured array of swim hats in a balmy 15 degrees (and that's just the water temperature!) we pretty much had Playa El Pinet beach to ourselves. Shame sunbathing wasn't on the itinerary....instead Coach encouraged us to "think like a dolphin" whilst treating us to everything from drafting drills, to guiding us through the dos and don'ts of beach water entry.
What next? Cycling of course! We hired bikes to save us the hassle of transporting ourown so arrived at the shop, courtesy of the team mini bus, armed with pedals and helmets. Now, I'm not one for cheating on my Cannondale, but what happens on tour stays on tour right? And the carbon framed Raleigh road bikes Coach had lined up forus were the bees knees. We couldn't wait to slap on the sunscreen and get out on ourfirst shorts and shades ride of the season in the stunning Valencian countryside
If I'm totally honest, the daily training rides (totalling over 160 miles in four days) all blur into one happy memory of sun kissed skin, swaying palm trees, olive and lemon groves, mountain climbs, middle of nowhere meanders, and (best of all) not a raindrop in sight! Even cycling through the busy towns was a joy - roads in Spain are far better maintained than over here and the drivers are patient and don't pass unless there's plenty of space. And yes - they do have Strava in Spain. So there was a healthy dose of competition thrown in for king (or queen as it turned out!) of the mountain; especially the infamous Hondos de los Frailes climb which includes a sweatfest of a 20% incline.
I wish I could say I performed as well running. But as temperatures soared into the mid twenties I found the form and cadence drills surprisingly hard work. Still, you can't beat training outside your comfort zone, and the promise of an espresso in the traditional little Daya Nueva square certainly helped keep me moving. The early morning seven miler was more up my street - especially as that ended up with a pitstop at the square too!
Sound a bit full on? Well....it IS a training camp, not a holiday! But recovery is just as important as grinding out the miles, so Coach made sure there was plenty of that in the itinerary too. The buffet lunches were swiftly followed by an afternoon break for siestas, or some down time to top up our vitamin D (and get rid of those cycling kit tan lines!) And we mustn't forget the daily team debrief and Coach question time over the evening refuel of tapas, or paella, or some other local delicacy, not to mention a (rehydrating of course) ice cold G&T or pint to wash it down with!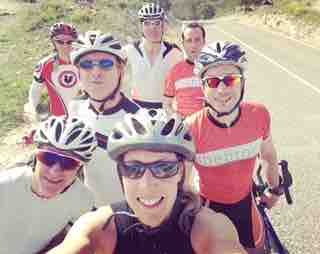 All in all, I can't think of a better way to start what's set to be a really exciting season - first class coaching, great team to share it with, and did I mention the sunshine?!
by Georgina Crawshaw